Graco manufactures and markets premium move, measure, control, spray a wide variety of fluid and powder materials, and also dispense equipment. They employ approximately 3,500 people worldwide and serve thousands of customers in over 100 countries. In 2018, net sales surpassed $1.6 billion.

Committed to world-class manufacturing & unparalleled customer service

High quality, efficient and engaged workforce

90 Years in the making
Brothers Russell and Leil Gray incorporated Gray Company in April 1926 at the height of the "Roaring Twenties." The Gray brothers launched the company to manufacture and market an air-powered, portable lubricator Russell invented while working as a parking lot attendant. His big idea emerged as he fumbled with a manual grease gun in freezing Minneapolis temperatures that turned grease into thick sludge. The Gray brothers had a "start-up" and they began operations at 120 South Tenth Street in Minneapolis.

1930's: Lubrication Expansion

1950's : First Airless Spray Gun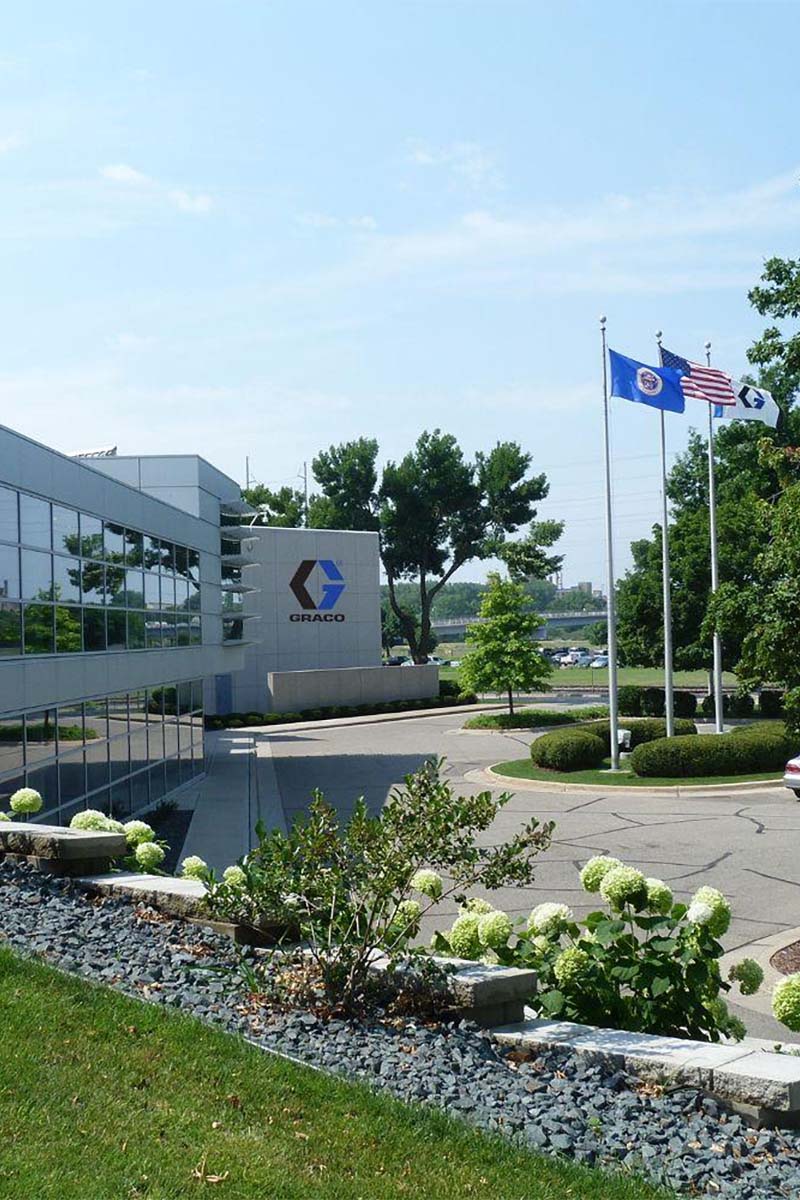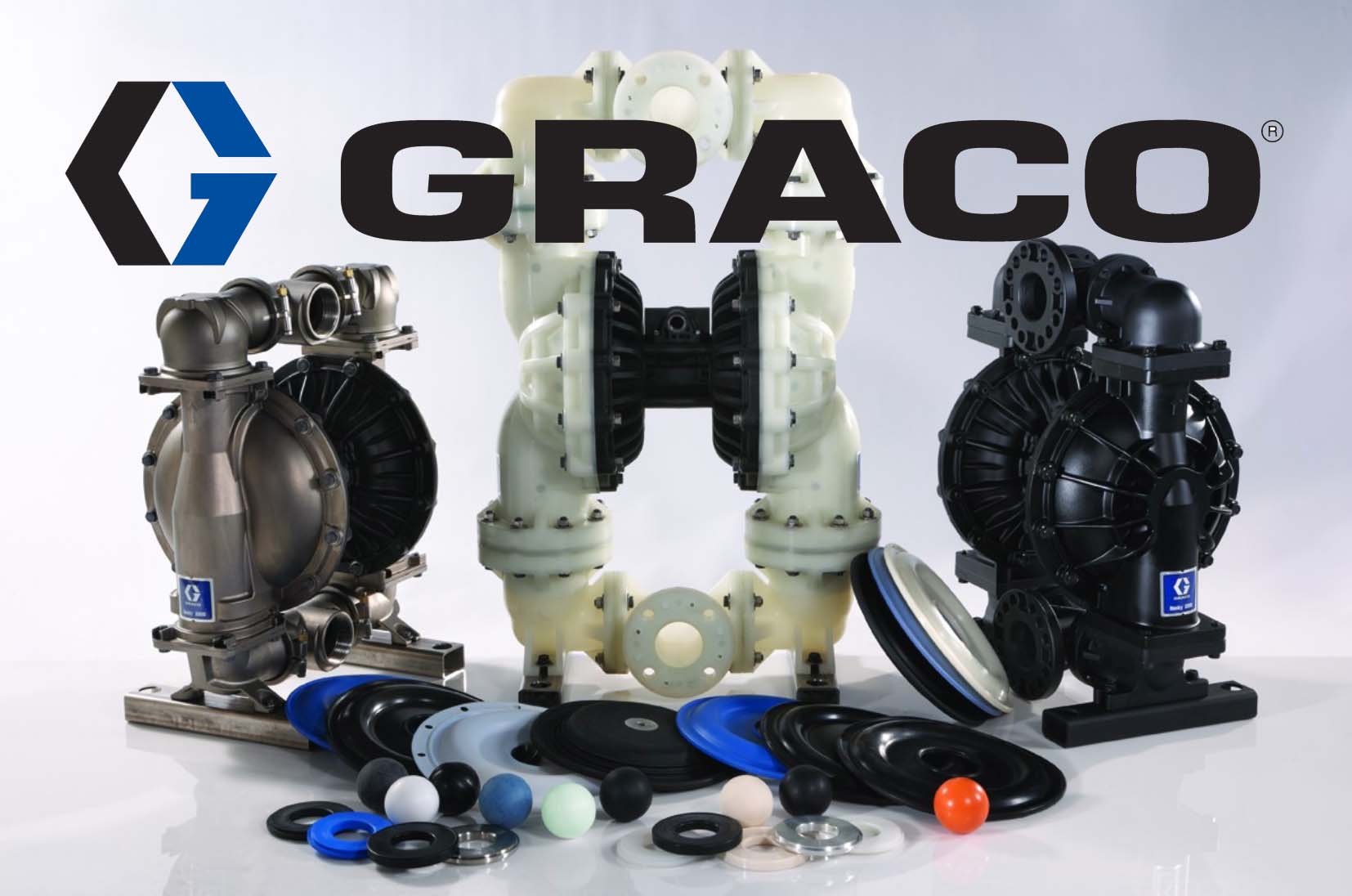 Huge range of pumps to suit many industries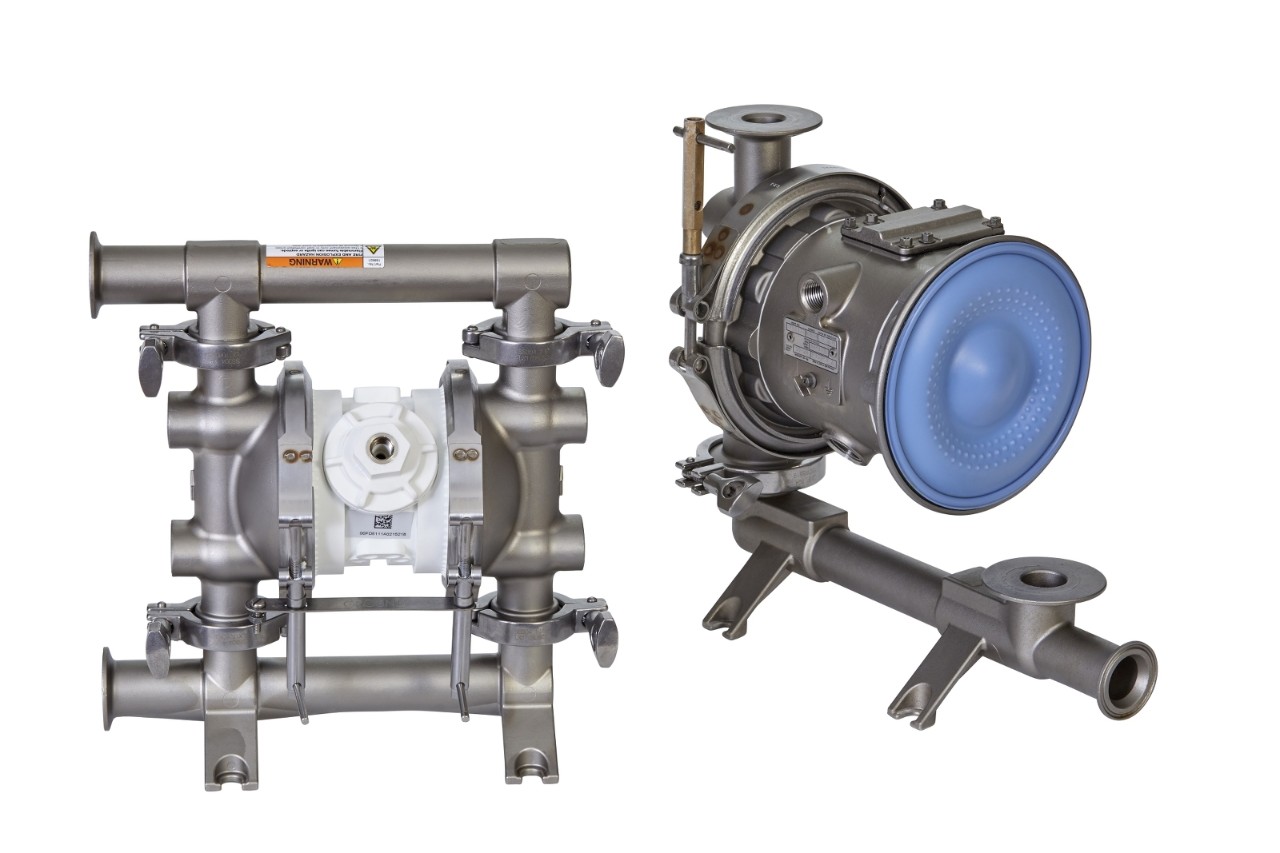 Double Diaphragm Food Grade Pumps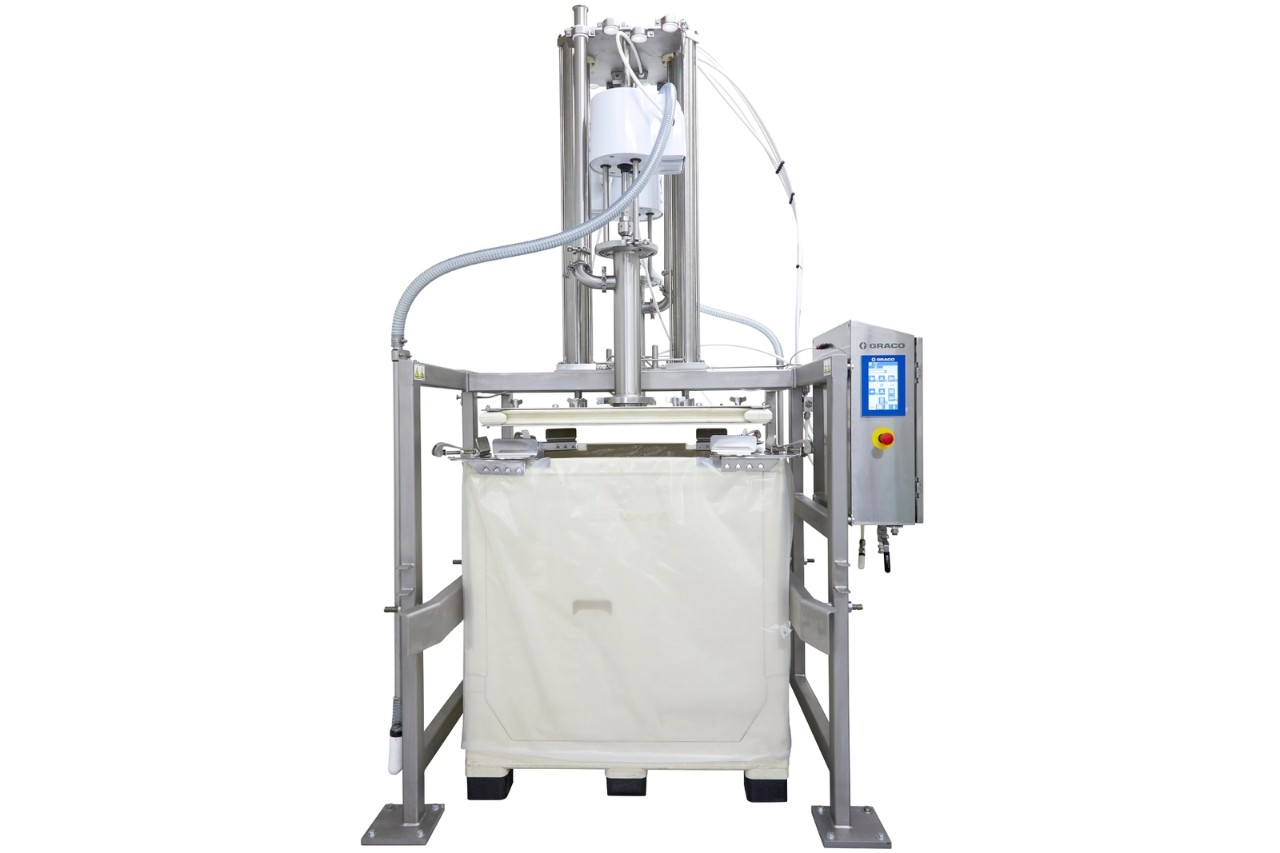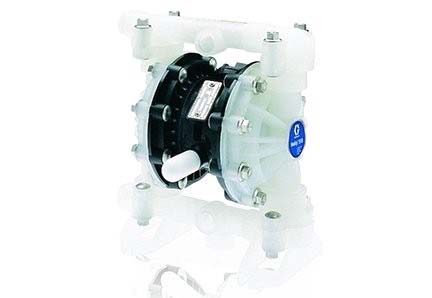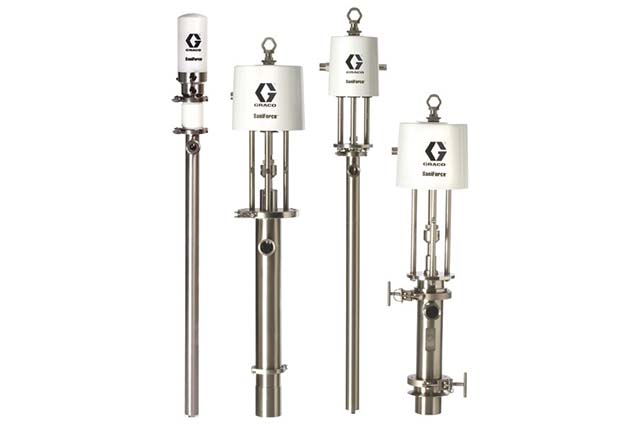 Click below for a Sanitary Brochure
Email for more information
Sealants & Adhesives
Moving, measuring, mixing, controlling, dispensing and applying a wide range of material is our speciality. From thin, easy-to-move fluids to thick, high viscosity, hard to move materials or a precise combination of the two. Graco are the fluid handling experts.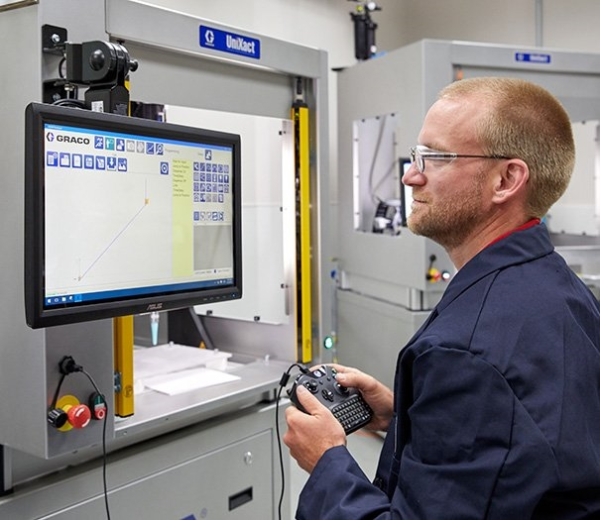 Automated Adhesive Dispensing
Graco automated adhesive dispense systems deliver the precision and accuracy needed for today's small electronics manufacturing and assembly processes. Whether the application is bonding, sealing, gasketing, potting or encapsulation, proven Graco automated dispense technologies provide unmatched reliability and durability. Flexible designs and equipment sizes adapt easily as materials and parts change to ultimately streamline your processes and improve productivity.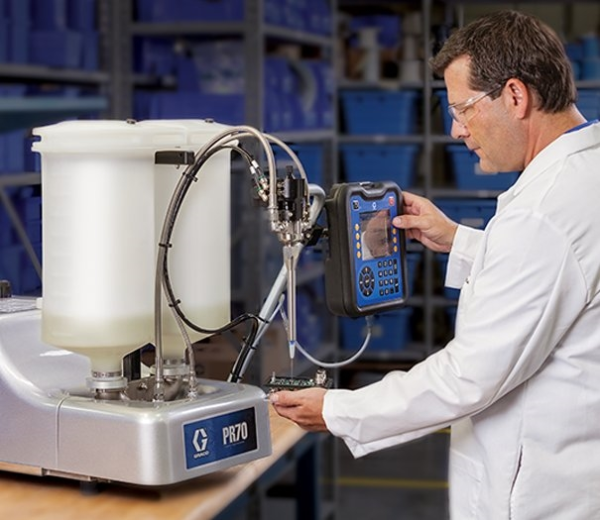 Meter, Mixing & Dispense Equipment
Graco offers a complete line of metering equipment and dispense and mixing equipment for industrial applications with two-component sealants and adhesives. Engineered to the highest standards, Graco advanced adhesive dispensing systems deliver accurate, on-ratio dispense of medium to high viscosity sealant and adhesive materials, including acrylics, epoxies, elastomers, polysulphides, silicones, urethanes and more.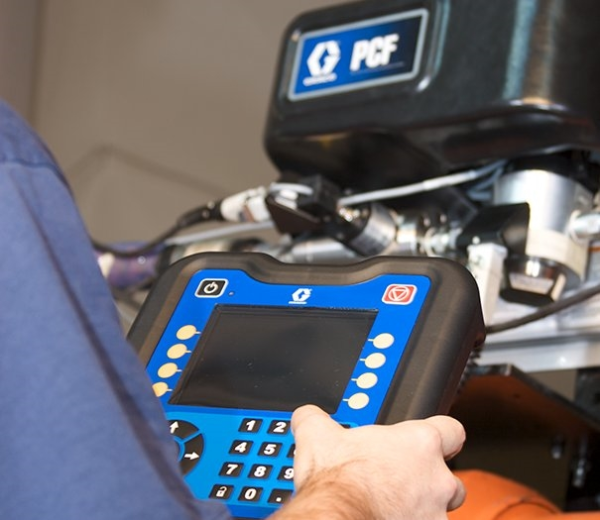 One Component Metering Systems
Graco's pressure and flow controls for industrial applications provide the ability to meter and dispense single-component materials. When dispensing sealants and adhesives, Graco's advanced precision dispense technology to deliver improved product quality, reduced scrap and lower operating costs.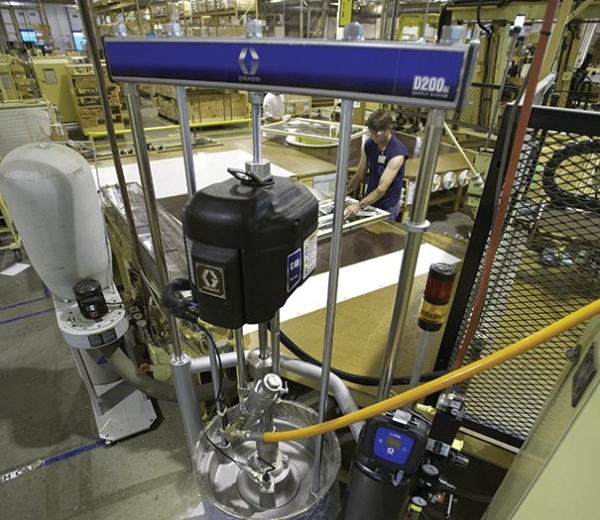 Pneumatic Pressure Washers
Graco's supply systems and pumps reliably deliver sealants and adhesives from a wide range of containers. Sealant supply systems and sealant pumps reliably move viscous materials at ambient temperature and can also provide warm and hot melt material conditioning. Designed with advanced pump and motor technologies, Graco adhesive supply systems and pumps help maximise your plant's production capacity and are designed to integrate with all manufacturing lines.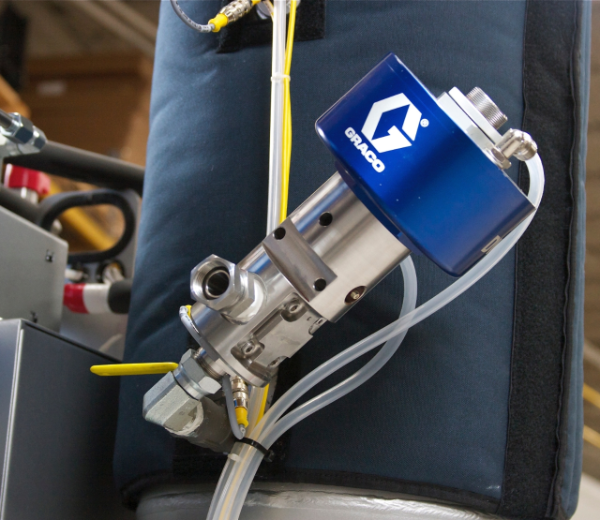 Sealant & Adhesive Parts and Accessories
Graco provides a wide selection of parts and accessories such as flow meters, fluid pressure regulators, and pattern controllers to keep your system functioning more productively while allowing you to put the right amount of adhesive exactly where you want and need it.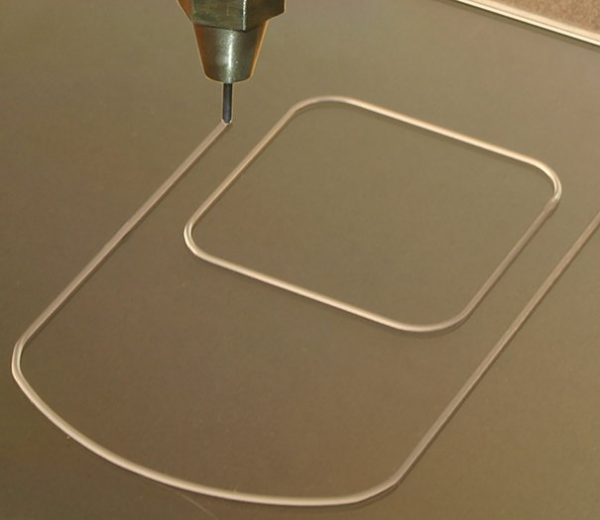 Sealant Applicators & Dispense Valves
Graco offers a broad line of precision applicators and dispense valves engineered to provide accurate and repeatable shot and bead dispensing of sealants and adhesives. Engineered to increase production time and maximise production efficiencies, Graco precision adhesive applicators and dispense valves are a smart investment for the future of your business. With proven technology that is easy to operate and service, you can be confident your investment will improve your productivity.
Industrial Fluid Products
Explore our lines of batch controllers, double diaphragm pumps, peristaltic pumps and piston transfer pumps. Each is available in a range of sizes and capabilities—you'll find a unit that's perfectly suited for your specific application.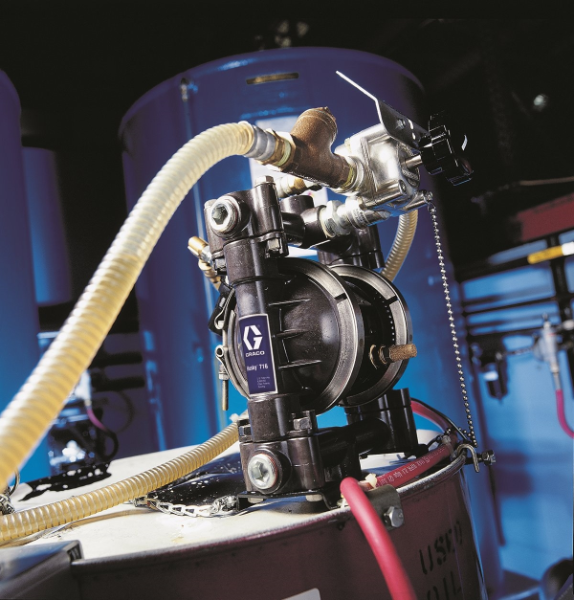 Industrial Diaphragm Pumps
Graco's diaphragm pumps are designed for industrial and chemical transfer applications. Graco chemical and industrial diaphragm pumps come in pneumatic and electric options, with many flow rates and sizes. Both metal and plastic housings can easily handle corrosive and abrasive fluids. All of their industrial and electrical diaphragm pumps are thoroughly tested before they leave their factories.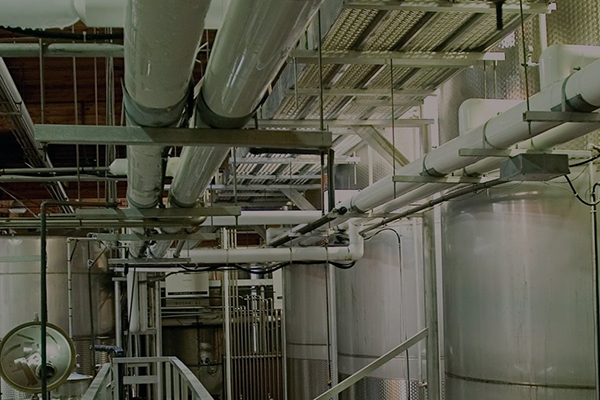 Meter & Transfer Accessories
Graco's meter and transfer pump accessories, like our EPDM and PTFE overmoulded diaphragms, give you the flexibility to handle a wide range of fluids with a single pump. Their EPDM diaphragm, made from ethylene propylene diene monomer rubber, is widely used for hygienic processing. PTFE diaphragms are made from polytetrafluoroethylene, which makes them ideal for both hygienic and chemical applications.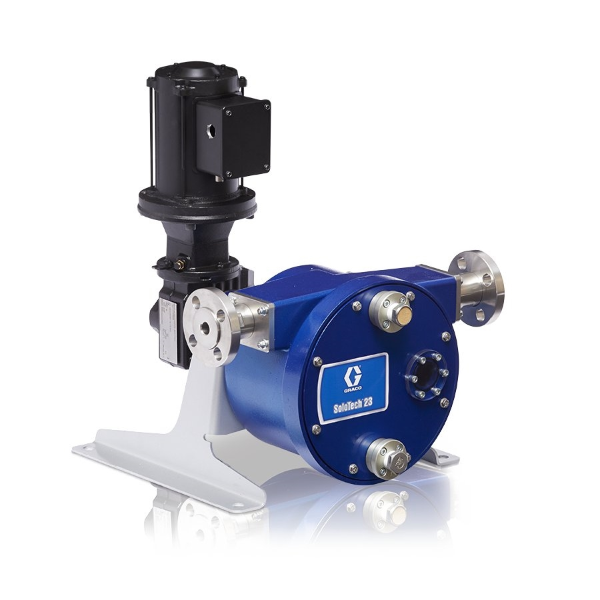 Peristaltic Pumps
Peristaltic pumps, also known as positive displacement pumps, are typically used for pumping caustic, abrasive, or sensitive fluids and are ideal for long runs with continuous flow. Graco's innovative design uses a single roller that compresses an engineered hose through a full 360 degrees of rotation for longer hose life. Graco peristaltic hose pumps are designed for industrial metering and fluid transfer applications, amongst others.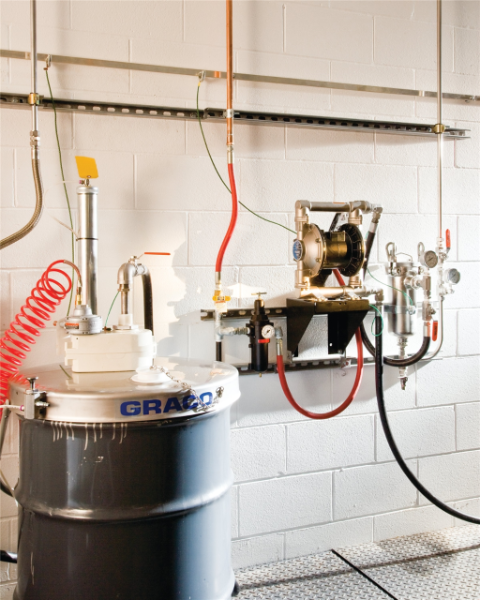 Piston Transfer Pumps
Graco's long lasting pneumatic and hydraulic ink pumps are ideal for the most difficult inks and other high viscosity fluids. Expect extended life with these ink transfer pumps, which feature an enclosed, dual seal wet cup design. With our hydraulic piston pumps you can evacuate directly from buckets, bins or drums. Our pumps are ideally suited to most ink manufacturing and printing applications.
Click below for a Brochure
Email for more information
All Protective Coating Products
Explore our broad lines of professional protective coatings equipment. Each delivers Graco's promise of best-in-class performance, backed by the industry's best warranty programme and our far-reaching customer service and distribution team.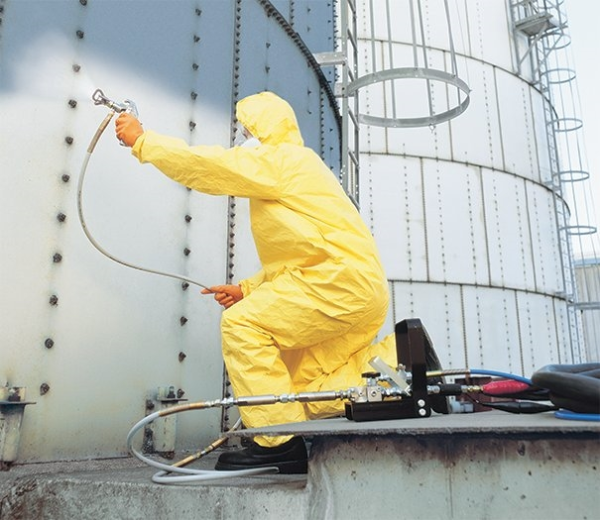 Chemical Resistant Coatings Sprayers
Graco chemical resistant coatings sprayers for manufacturing applications are capable of spraying epoxies and polyurea coatings and linings that will hold up to high concentration levels of certain acids, solvents and other aggressive and corrosive chemicals. These chemical resistant sprayers are designed to withstand the harshest environmental conditions and easily handle the toughest protective coatings and corrosion control applications.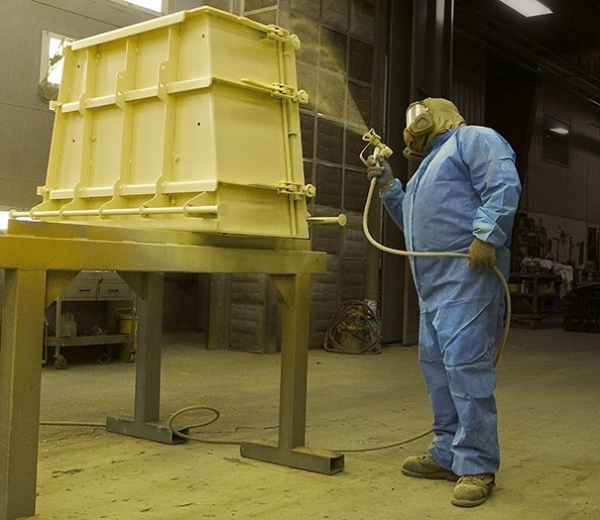 Corrosion Protection Coatings Sprayers
For manufacturers looking for the industry's broadest selection of corrosion protection sprayers, Graco offers unmatched high pressure performance and cost saving reliability. These built-to-last sprayers are designed to handle polyurea, polyurethane, marine, two-component, hybrid coatings, and more. Graco corrosion protection sprayers are ideal for the in-plant coating of pipes, industrial equipment and reinforced steel structures.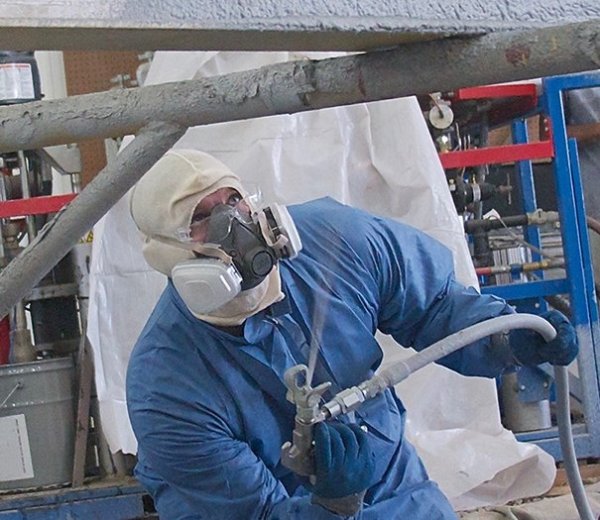 Fireproofing Sprayers
Check out Graco's full line of PFP (passive fire protection) sprayers designed to apply a broad range of intumescent fireproofing materials for the manufacturing of pipe racking, I-beams, structural steel, storage tanks and more. Graco's versatile and reliable fireproofing sprayers are built to perform in harsh manufacturing environments.
Pneumatic Pressure Washers
For manufacturers or professional after-market installers, Graco offers a broad range of wear resistant coatings sprayers, operating with a variety of wear resistance coating materials. Graco sprayers are ideal for applying bed liners and wear-resistant coatings to the undersides of commercial vehicles and the slip resistant areas of fire trucks and utility vehicles. In addition, our plural component mix and spray equipment for polyurea coatings produces a professional finish for high volume applications.
Protective Coatings Equipment Accessories
Graco's heated hoses are designed specifically for use with Reactor Equipment. Hoses are a key component to the total system, making it important to achieve accurate and uniform heating for the best application possible.
Graco InSite allows you track your Graco Reactors in real-time from your smart phone, tablet or computer. InSite's scalable technology allows you to see data from a single Reactor, or an entire fleet across multiple job sites.
Protective Coatings Guns
The Fusion Air Purge is Graco's most popular plural-component gun for both polyurethane foam and polyurea applications. Its exceedingly simple air-blast tip technology ensures less maintenance and minimal downtime.
The Fusion Mechanical Purge spray gun's straightforward design provides excellent mix and material properties in a simple, easy-to-use package. Whether you're spraying polyurea coatings or spray foam insulation, the rugged Fusion MP handles it all.
Got any Questions, let's talk.