Founded in 1968 and based in Montecchio, Vincenza in Italy, Lowara has been serving customers and users of centrifugal pumps for almost 40 years. Lowara is a recognized world leader in stainless steel pump manufacturing technology ranging through turbine, centrifugal and submersible pumps. Lowara pumps are manufactured in AISI 304 and 316 fabricated stainless steel using laser technology for a diverse range of markets, including commercial, building service, industrial, agricultural, and domestic. The range of pumps includes vertical multi stage, in-line, end suction close coupled, peripheral turbine, small horizontal multi stage, jet, submersible bore hole, drainage and de-watering pumps, as well as booster and domestic pressure systems.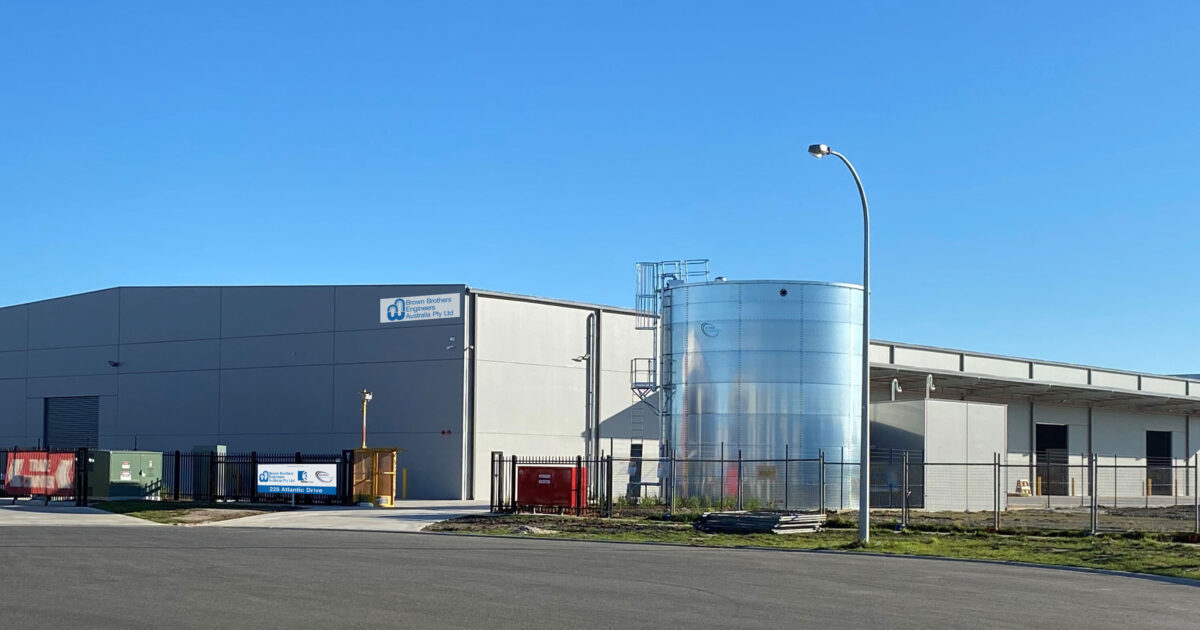 Brown Brothers Engineers was established in 1908 in New Zealand by Alfred and Phillip Brown. In the early years, the company specialised in electrical engineering and diversified into pumps after 1915.
In 1935 Brown Brothers moved into pump manufacture for farm, industrial and household use. In the post war decades Brown Brothers grew and thrived becoming the New Zealand distributor for many of the worlds leading pump manufacturers.
In 1980 Brown Brothers became a member of the Mace Group of Companies.
In late 1994 Brown Brothers established an office in Sydney and two years later opened an office in Melbourne. In April 2007 a Brisbane branch was opened.
In May 2004, Brown Brothers acquired Kelair Pumps Australia Pty Ltd, headquartered in Sydney and in March 2005 acquired Rob Laine Pumping Solutions Pty Ltd in Melbourne.
In 2007, Brown Brothers acquired Lowara Pumps Queensland.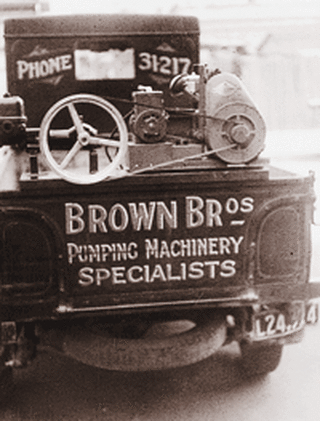 Large range of pumps to suit many industries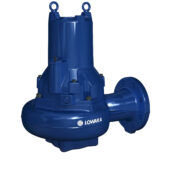 Submersible Waste Water Pumps
The Lowara 1300 series is a submersible pump line that delivers pure performance at outstanding value. Combining performance and quality, in a convenient package that delivers value for money, helping ensure the smooth running and profitability of your operation.
The Lowara 1300 series is based on technology developed and tested in tough environments the world over. That's why you can count on these pumps for trouble-free, reliable operation. The hydraulic design of the pumps has been proven to reduce clogging and maintain efficiency. These pumps simply work and keep on working.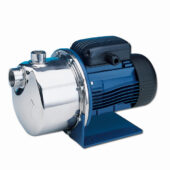 Self Priming Centrifugal Pumps
Self-priming close-coupled centrifugal pumps with built-in ejector system, designed to remain primed even in the presence of water-dissolved gases. The extensive use of pressed stainless steel ensures a high-performance, durable and lightweight pump. Suitable for use with drinking water.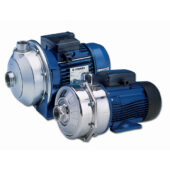 Stainless Steel Single & Twin Stage Centrifugal Pumps
Wide range of pumps for domestic and industrial applications.
Single-impeller (CEA) and dual-impeller (CA) models available.
"N" version completely made of AISI 316 stainless steel also available.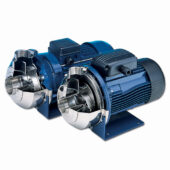 Stainless Steel Open Impeller Centrifugal Pumps
These pumps combine the advantages of an open impeller with those of the AISI 316 stainless steel construction, which is particularly suited for handling moderately aggressive liquids with suspended solids.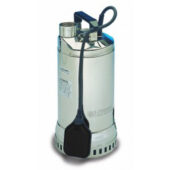 DIWA Series Submersible Pumps
Submersible pumps for clean and dirty water. Entirely made from AISI 304 stainless steel, compact and lightweight, with mechanical seal and coated diffuser plate for maximum resistance to abrasion. Supplied with or without float switch. Most pump models feature a built-in capacitor. The motor is cooled by the pumped liquid and thermal overload protection to protect the pump in case of overheating.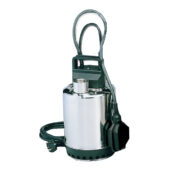 Residential Submersible Pumps
The Lowara DOC Series submersible pumps are corrosion-resistant and compact, they are available in three versions with channel or Vortex impellers. Supplied with or without float switch. Built-in capacitor. The motor is cooled by the pumped liquid and thermal overload protection to protect the pump in case of overheating.
Residential drainage pumps that are equipped with a magnetic float switch which allows the installation in the narrowest spaces preventing clogging issues, offering better reliability than previous generation models.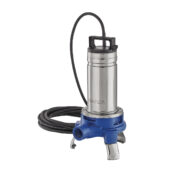 Residential Submersible Grinder Pumps
Lowara's DOMO GRI is a submersible grinder pump designed to deliver residential sewage containing suspended solids and wastewater to the sewer mains or a pressurized sewer network. Made with a heavy duty cutting device, the DOMO GRI will grind solids into a fine slurry easily passable through small diameter pipes. Available with or without a float switch.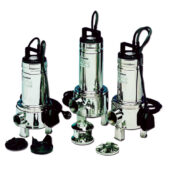 Domo Series Submersible Pumps
The Lowara DOMO series is a submersible pump designed for a solid-laden wastewater. From emptying septic tanks to emergency draining in flooded areas, the DOMO series is equipped to handle demanding dirty water applications. Available with either a twin-channel impeller or vortex impeller. Supplied with or without a float switch.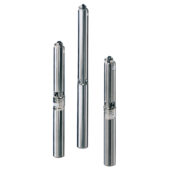 4" Borehole Submersible Pumps
High content of AISI 304 stainless steel. The floating impeller design ensures an excellent resistance to wear.
The upper and lower supports of the eGS submersible borehole pump are made of precision-cast stainless steel ensuring resistance to corrosion, strength and rigid coupling to the motor. The non-return valve is integrated in the head to support the weight of the column of water and protect against water hammer, thus safeguarding impellers and diffusers. The eGS Can also operate in a horizontal position.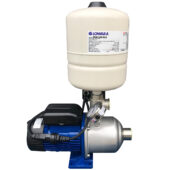 Domestic Pressure Systems
Single-phase pump with electronic pump controller / Pressure tank and Pressure switch.
Features:
Easy to install
Trouble-free servicing
Pressure or Flow
Compact
Automatic re-set controllers
Protection against dry running and excessively frequent starts
Standard 18 litre tank and pressure switch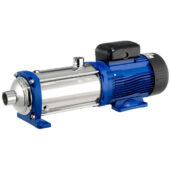 Horizontal Multistage Pumps
The e-HM series is a modern, robust designed horizontal multistage centrifugal pump.
State-of-the-art hydraulics with best-in class efficiency combined with IE3 motors mean the lowest possible operating costs.
Thick sheet metal casing, high-quality bearings and stainless steel guarantees a long service life.
High-efficiency hydraulics, motor and thick sheet metal pump body keep the noise level to a minimum.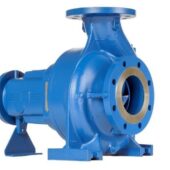 Cast Iron End Suction Pumps
By combining high efficiency with high flexibility regarding installation, material options and temperature, the new Lowara e-NSC series is the natural choice for water transport, hydronic heating and chiller systems, fire protection systems and a vast number of industrial applications.
Robust design, different bearing frame sizes and stainless steel replaceable wear rings ensure a long service life. The e-NSC is also designed for easy maintenance and all service points are easy reachable to reduce downtime.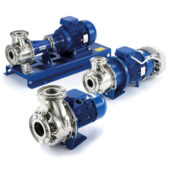 Stainless Steel Centrifugal Pumps
The Lowara e-SH series is a single impeller centrifugal pump made in AISI 316 stainless steel, making it the right pump for moving water and aggressive liquids in a vast number of applications where high chemical resistance is needed.
High efficiency and low operation costs
Newly designed high efficiency hydraulics with MEI values well above the ErP2015 level and IE3 motors set the basis for very low operation costs. Equipped with a Hydrovar variable speed pump controller, the duty is always exactly where it should be. And it pays off: reducing the speed by 50% reduces the power consumption by 85%.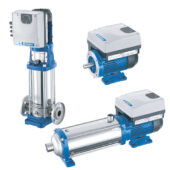 e-SM Smart Pump Range
The Lowara Smart Pump (eSM) range is an integrated intelligent pumping system with an electronically driven, permanent magnet motor. The e-SM Series is flexible, precise and more compact than ever.
Designed to "plug and play", this series is all about the right combination of motor, variable speed drive and pump. It is easy to install and commission in both new and retrofit applications.
The e-SM Series Smart Pumps can connect with up to three pumps at once with no need for an external control panel. It features state-of-the-art technology to optimise performance, communicate with other building systems, reduce energy usage and dramatically decrease operational costs.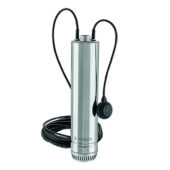 Scuba Series Submersible Pumps
The new Lowara Scuba submersible pump is compact and close-coupled bringing a new level of reliability and flexibility to primary water supply. The Scuba submersible pump is certified to the Water Regulations Advisory Service (WRAS) drinking water standard. Making it perfectly suited to applications like private wells or tanks for residential use, alongside the Scuba DRY version for working outside of the well as a noiseless surface booster pump.
The Scuba submersible pump is also suitable for light industrial use; such as in car washing systems for water reuse, filtering machines or hoppers.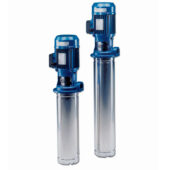 SVI Series Submersible Pumps
Immersible vertical electric pumps for the industrial and commercial sectors.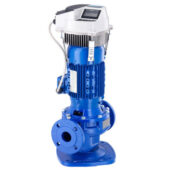 e-LNE Inline Pumps
The high efficiency approach and the hydraulic performance optimized for variable speed control makes the e-LNE the perfect choice for demanding building services applications.
High efficiency
This in-line pump is designed with high efficiency hydraulics well exceeding the ErP2015 level and IE3 motors set the basis for very low operation costs.
Long service life & easy maintenance
Robust design, different bearing frame sizes and stainless steel replaceable wear rings ensure a long service life. The e-LNE is also designed for easy maintenance and all service points are easy reachable to reduce downtime.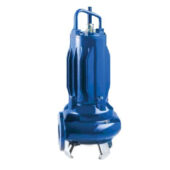 Waste Water Submersible Pump
Motor stator installed in non-toxic, dielectric oil for the lubrication of the ball bearings and improved cooling. Volute pump casing. Mechanical seal protected by sand-proof labyrinth. Single-channel or vortex impeller – cross-section Ø 50 mm.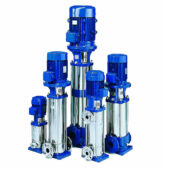 Vertical Multistage Pumps
The e-SV™ pumps are tough, efficient and built to last. Thanks to a unique combination of new hydraulic design and higher efficiency motor, the e-SV™ delivers lower overall life-cycle costs and superior efficiency compared to most pumps available today.
Multi-stage vertical pumps with impellers, diffusers and outer sleeve entirely made of 304 stainless steel, with pump body and upper head in cast iron in the standard versions (33SV-125SV) and 304 stainless steel (1SV-22SV). The N versions are entirely made of 316 stainless steel. This reliable and technologically advanced series owes its success to its flexibility of application, ease of maintenance, high performance and silent running.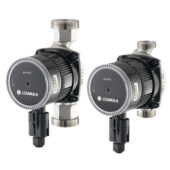 Ecocirc Circulator Pumps
The Ecocirc is the latest generation high efficiency circulator based on the proven shaftless spherical motor design with ECM technology and permanent magnets. This design combines high efficiency, low noice and an affordable price.
The new generation has improved efficiency and fullfill the requirements of ErP 2015. It also has a high magnetite resistance thanks to the new Anti-Block technology.